A Luxury Kitchen For Lavender Fields Care Home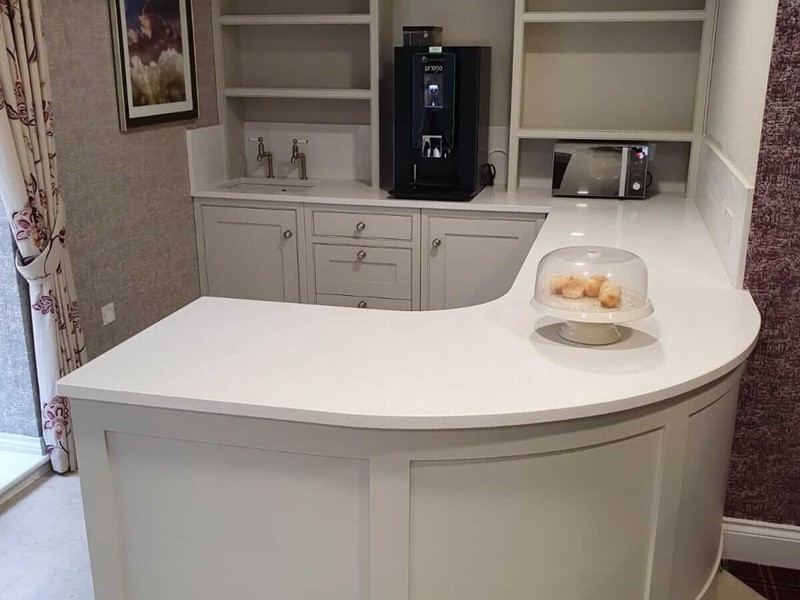 We are specialists in manufacturing bespoke, in-frame kitchen furniture, bedroom furniture, bathroom furniture and freestanding pieces of furniture for hotels, care homes, listed buildings, luxury offices and corporate companies. We worked closely with the owners of the lovely Lavender Fields Care Home in Sevenoaks, Kent, to create a luxury kitchen for the visitors of their residents.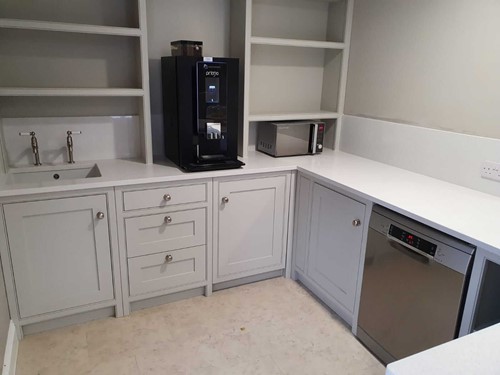 A high traffic area with multiple users daily, the visitor's kitchen of the care home was in need of being updated, to reflect the high standards of the rest of the home. The owners of Lavender Fields wanted a quality, in-frame shaker kitchen, that would bode well to the high traffic it would receive, that was easy to clean and maintain. Our in-frame staff bead shaker ticked all the boxes of what they wanted aesthetically, and Sean O'Malley, our Business Development Manager, worked with the care home owners to recommend a hardwearing worktop and hardware to stand the test of time.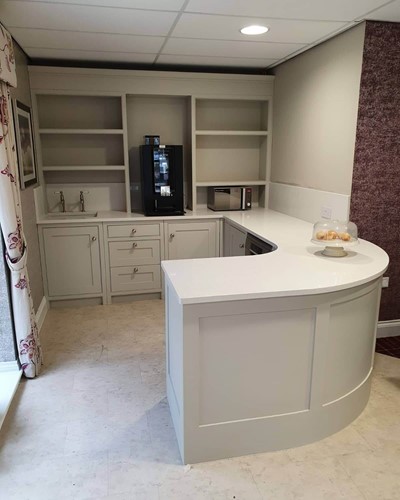 Open shelving provides lots of storage space for crockery within easy, accessible reach for the visitors, and a space for the drinks machine to sit safely too.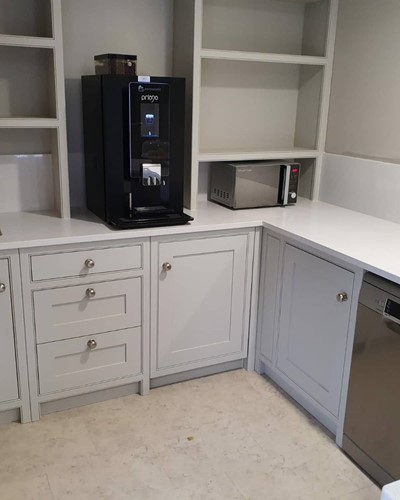 The curved peninsula not only provides additional worktop space, it creates a divide between the kitchen area and the visitor's area too.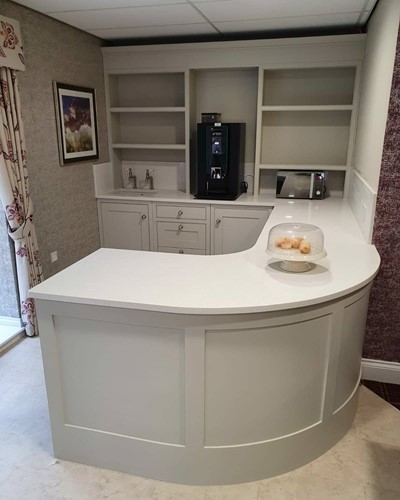 We manufacture bespoke, handmade kitchens and interiors, and we work with trade professionals in London and the Home Counties. If you are a kitchen retailer, architect, interior designer, property developer, or contractor and you are looking for a British company to bring life to your bespoke furniture designs, then please do get in touch: 01634 940 953 or email [email protected].   
Trade Customers
Contact Us
If you are a trade professional looking for a furniture workshop to bring life to your bespoke kitchen and interior designs, please call us on 01634 940953 or email [email protected].