A Galley Style Classic Kitchen For Our Kitchen Retailer In Tonbridge, Kent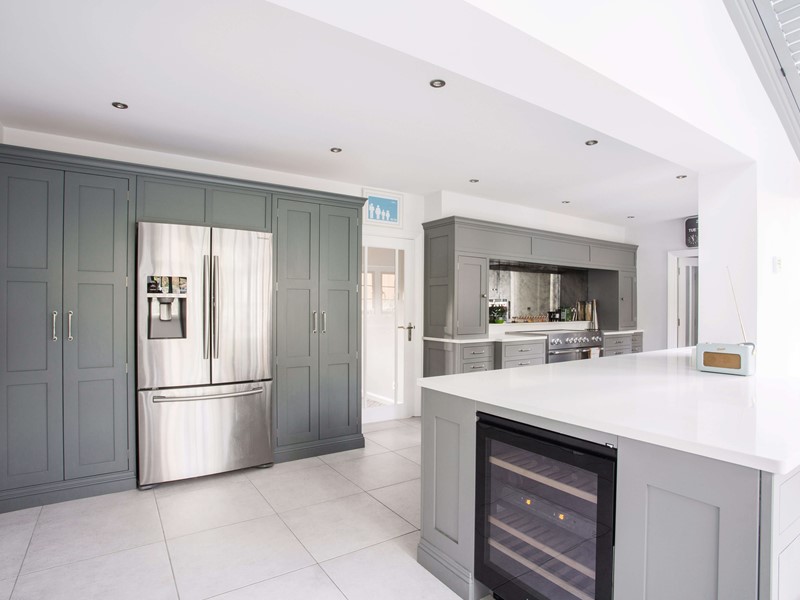 Arbor Lane creates a classic, galley kitchen for our Retail Showroom Partner in Tonbridge, Kent.
Narrow rooms can be a challenge in kitchen design, especially when sourcing cabinetry to maximise available space; being able to create a totally bespoke design gives your clients endless options for their new kitchen. Our in-frame shaker cabinetry is timeless with its simple inset door detail, and is the perfect choice for a family kitchen design.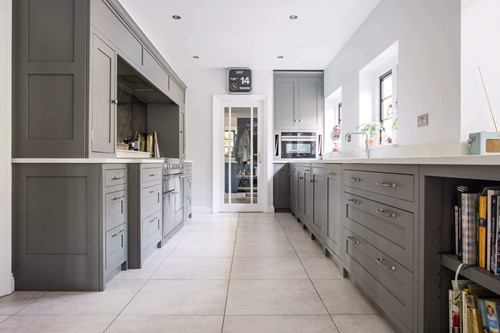 End panels are an essential part of the kitchen design process, especially when clearly visible. The end panels we manufacture are made-to-measure in a range of designs including shaker, slab and staff bead.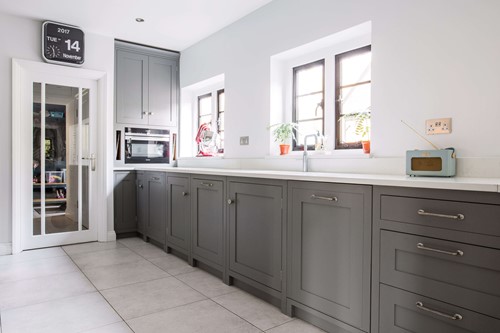 Corners to kitchens are sometimes hard spaces to use. A tall, double door counter top unit was the perfect solution for utilising all available space, and a bespoke design to house the microwave and tray spaces was possible too.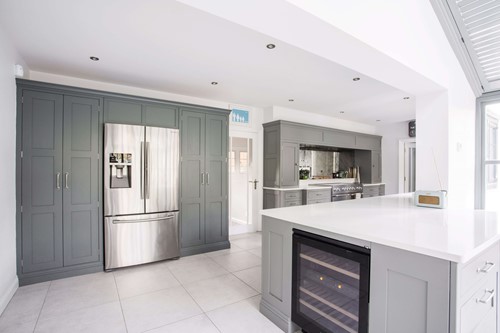 We do not supply appliances, however we are able to manufacture your cabinetry to the exact dimensions required to house any appliance, including base units to house hot tap tanks such as the Quooker, with plenty of space for a range of tank sizes, filters and additional parts, and floor-to-ceiling larders and refrigerator surrounds.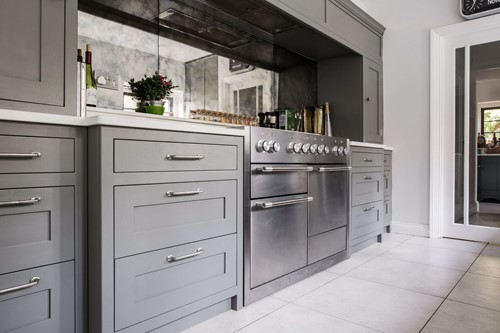 Soft-close drawer runners come as standard in all our furniture. Not only do soft-close runners prevent drawers and doors from slamming therefore minimising impact on the furniture, they also ensure contents of drawers do not slide when shut, and they protect fingers from accidentally being trapped too. Drawers can also be made in a range of sizes, making them a great alternative to base cupboards, particularly either side of the range for large pots and pans.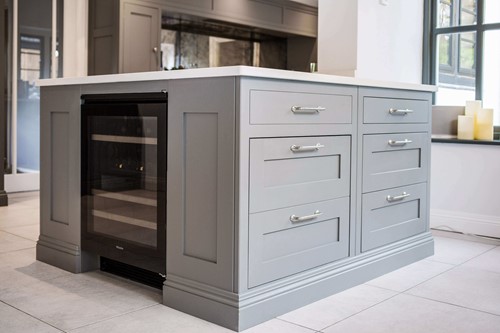 Being a galley kitchen, the space was not big enough for a stand-alone island. However, the beauty in bespoke furniture meant that a peninsula could be designed to wrap around the wall, creating an island effect.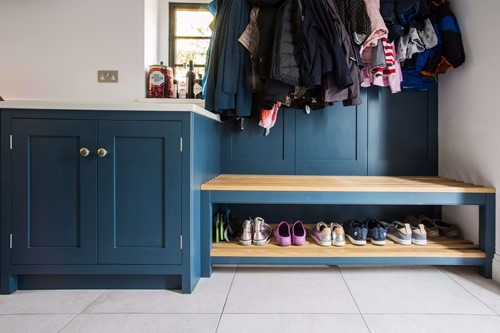 As well as kitchens, we also manufacture bedroom furniture, bathroom furniture, utility and boot room furniture; in fact, we manufacture in-frame furniture for any room in the home! As part of the same project, we brought to life the designs for a made-to-measure utility/bootroom adjacent to the kitchen, with bespoke storage solutions, in-frame cabinetry and bench seating.
The nature of our handpainted technique and finish to our furniture ensures that touch ups can be quickly and easily done on site if required, and even re-painted in years to come as colour trends change. Our furniture is sustainable and built to stand the test of time.
We are fully flexible with our working methods and will work discreetly alongside you to ensure that your project runs smoothly from the design stage, throughout the manufacture process to delivery to site. All our furniture is delivered to site in non-sign written vans.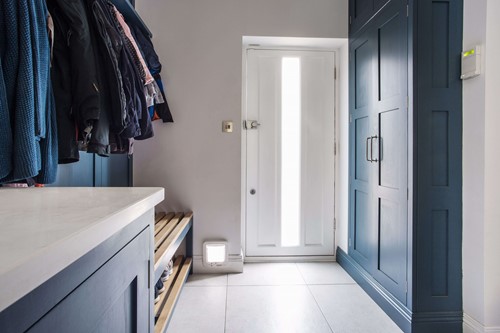 "Working with Arbor Lane has been a breath of fresh air. Nothing is ever too much trouble; they work so hard to bring my kitchen designs to life, and deliver them to my clients' houses on time too. The process is so simple and I cannot recommend them enough."
- Kitchen Retailer, Kent 
We manufacture bespoke, handmade kitchens and interiors, and we work with trade professionals in London and the Home Counties. If you are a kitchen retailer, architect, interior designer, property developer, or contractor and you are looking for a British company to bring life to your bespoke furniture designs, then please do get in touch: 01634 940 953 or email [email protected].     
Trade Customers
Contact Us
If you are a trade professional looking for a furniture workshop to bring life to your bespoke kitchen and interior designs, please call us on 01634 940953 or email [email protected].