In-frame bespoke home office furniture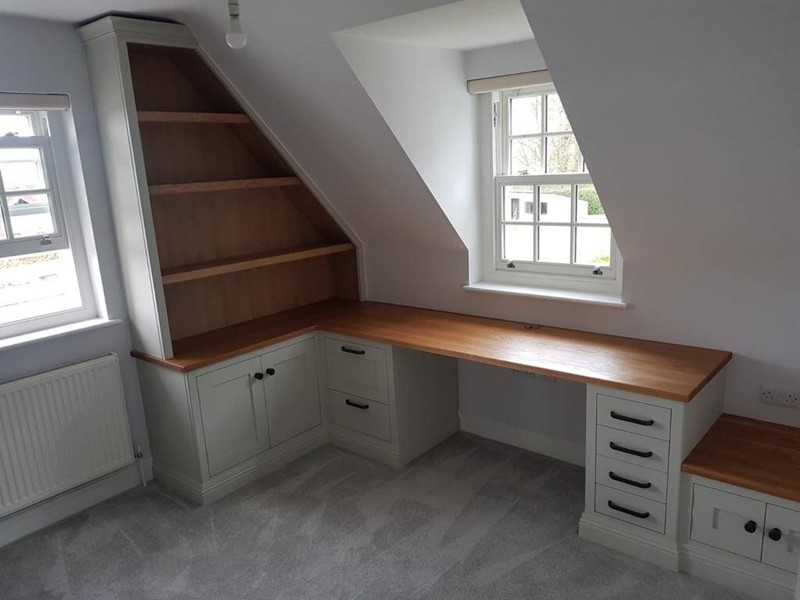 In 2020, 46% of people were forced to work from home due to COVID-19; because of this, we have truly seen a rise in demand for home offices. A home office is a very personal space, and designs will vary considerably depending on the nature of the job of the homeowner. A truly bespoke home office solution isn't something that is readily or easily available on the market at the moment, and many of our retail showroom partners have taken advantage of this over the past 12 months.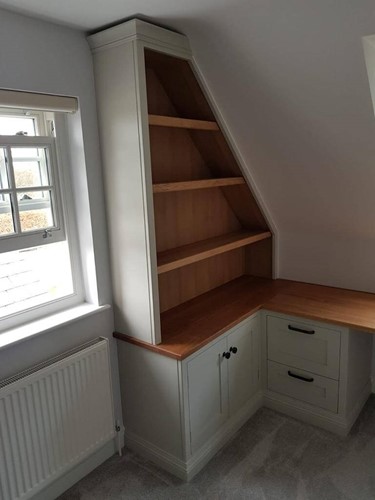 Most of the time, a home office usually involves designing furniture for a spare room, a nook within another room, a loft space or a converted garage, which as we all know can throw obstacles in the way of design. Very rarely will it be a straightforward plan, and often there will be low ceilings, wonky walls and nooks to work around to really maximise all available space and create a design that is both practical and aesthetically pleasing too.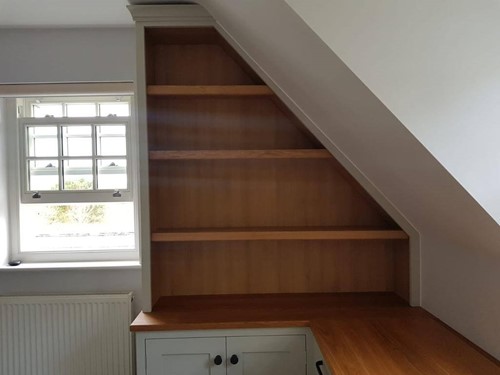 There are laws and regulations in place to ensure desks and work spaces are designed and made correctly to prevent injury or strain for the user, often sat in the same position for hours on end. If you are looking to go bespoke with your home office designs, our in-house team will assist every step of the way to ensure your designs are compliant with ergonomics.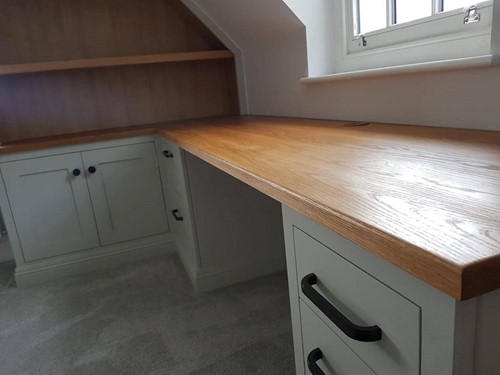 This project was for a recent home office installation in the eaves of the ceiling of a listed cottage in Sevenoaks. Whilst incredibly beautiful, listed buildings do come with a host of regulations to follow, which can cause hiccups in any renovation project. Luckily, being a home office and therefore a completely dry fit, there were no structural changes to be made on this project. The biggest hurdle was the sloped ceilings and low windows; which the designer was able to work around, safe in the knowledge that the furniture would be made to their exact specifications.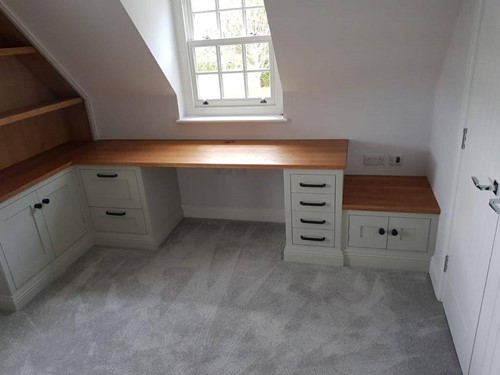 'A place for everything, and everything in it's place' is one of our favourite sayings here at Arbor Lane; summed up perfectly here by the low height cabinet for the printer to sit, with electrical points positioned perfectly. The doors beneath conceal shelves for paper and ink cartridges too.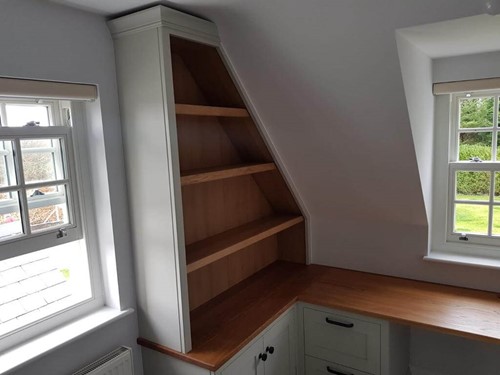 In a compact space, making use of all available space is essential, and being able to scribe the cabinetry to the sloped ceiling of the eaves meant an otherwise un-used wall becomes the perfect spot for open shelving for folders and essential storage. Due to the severity of the slope, the shelves are fixed in place, so each one was angled to sit perfectly inline.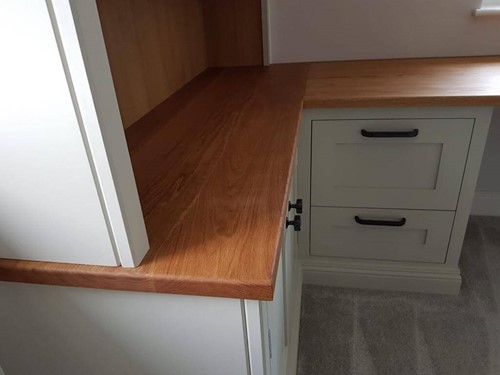 If you are a kitchen retailer looking to expand your portfolio of furniture, please do get in touch. Whether you have a retail showroom or not, we will work with you to ensure you have all the necessary marketing documents, photographs, case studies and specifications to offer a bespoke furniture range to your client base.
We have been in the bespoke furniture industry for more than a decade, and handmade, in-frame furniture is classic, timeless and will never go out of style.
Trade Customers
Contact Us
If you are a trade professional looking for a furniture workshop to bring life to your bespoke kitchen and interior designs, please call us on 01634 940953 or email [email protected].