A compact utility room to maximise storage space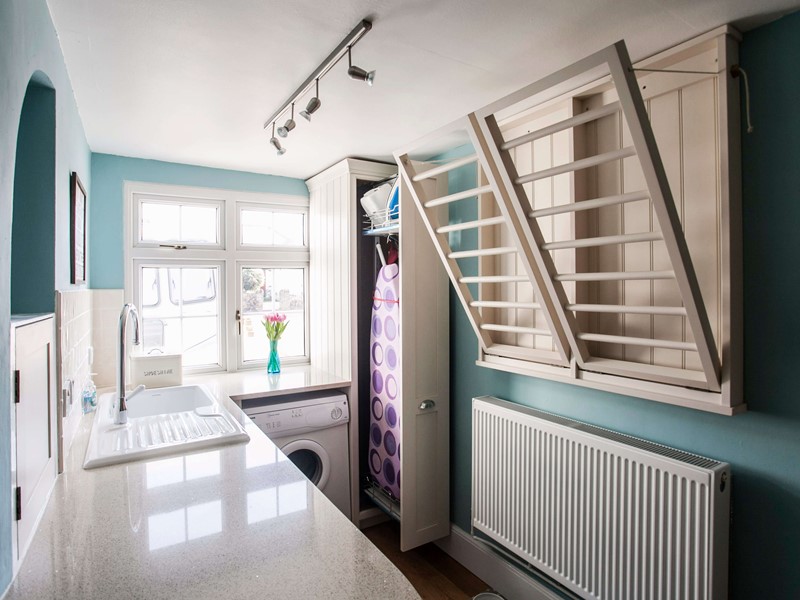 Often an extension to the kitchen, utility rooms provide ample storage space for bulky appliances that aren't needed daily, as well as taking the strain off the kitchen, particularly when cooking or entertaining guests. A well-designed utility room provides space for the washing machine, tumble dryer, and essentials for the laundry.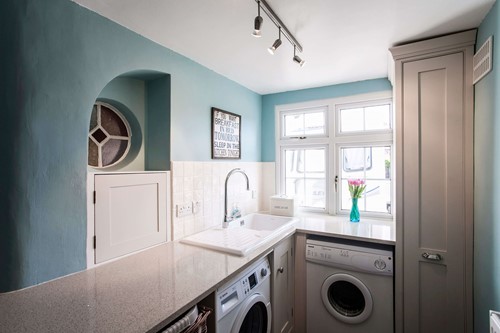 A kitchen and utility renovation often come hand-in-hand to ensure consistency in cabinetry and aesthetic flow throughout the home, but a rise in demand for organised homes and additional storage space has seen an increase in stand-alone utility projects too!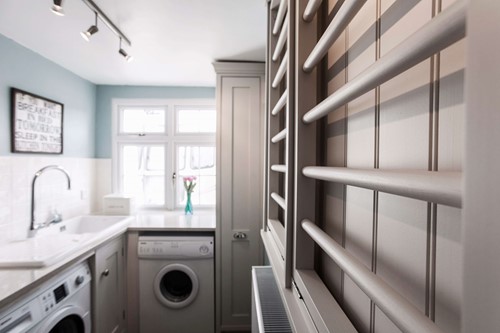 Having undergone a side-return extension to create an open-plan kitchen diner, the original kitchen was transformed into a compact but very practical utility room. With plumbing and waste already in place, this was a straightforward fit for our retail showroom partner; made even simpler with their bespoke designs being handmade by us to fit the exact dimensions of the room.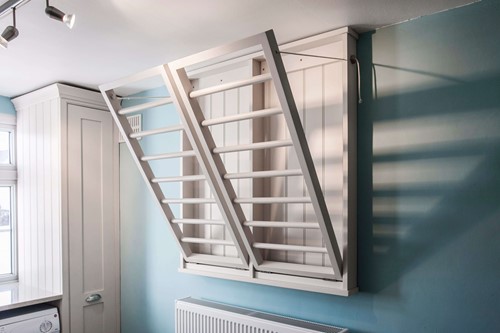 Maximising space was essential in this utility room design; by adding our handmade sheila maids to your designs you can help save space with their re-tractable hinges and traditional rope pulley system.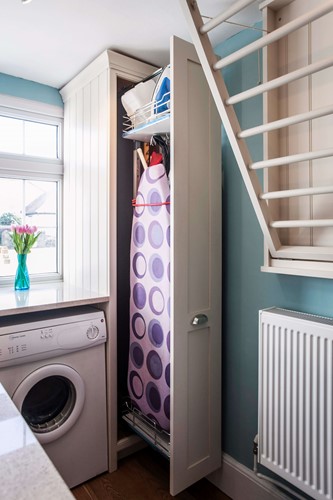 The narrow room meant wall cabinets were not possible in this design, however safe in the knowledge that we would be able to bring a totally bespoke cabinet to life, the designer was able to create a floor-to-ceiling pull-out storage solution.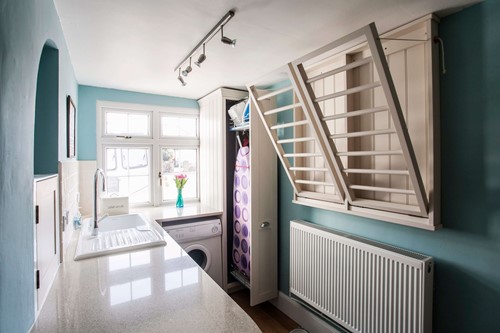 "Working with Arbor Lane is always such an easy process. This is our 5th project Arbor Lane has manufactured now, and we are always delighted with the outcome of the furniture (and so are our clients!)" - Kitchen Retailer, Sevenoaks. 
We manufacture bespoke, handmade kitchens and interiors, and we work with trade professionals in London and the Home Counties. If you are a kitchen retailer, architect, interior designer, property developer, or contractor and you are looking for a British company to bring life to your bespoke furniture designs, then please do get in touch: 01634 940 953 or email [email protected].    
Trade Customers
Contact Us
If you are a trade professional looking for a furniture workshop to bring life to your bespoke kitchen and interior designs, please call us on 01634 940953 or email [email protected].