Arbor Lane creates a bespoke family kitchen for a kitchen retailer in Surrey

Arbor Lane creates a bespoke family kitchen for a kitchen retailer in Surrey, Kent. We worked alongside our Retail Showroom Partner to bring their bespoke kitchen design to life in our furniture workshop in Historic Rochester, Kent.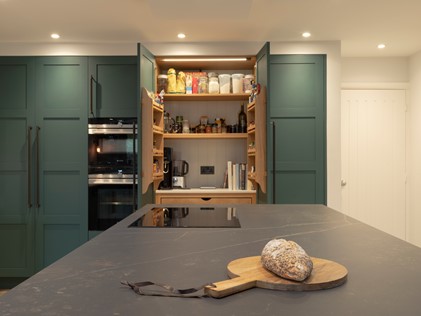 Each and every piece of furniture we make is totally bespoke and made to measure using sustainable materials and traditional techniques built to stand the test of time.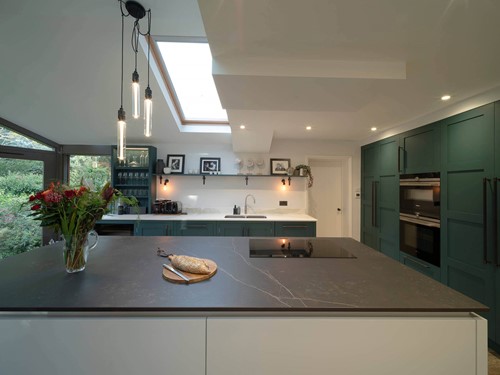 There are absolutely no limitations with our furniture, and we are proud to offer an unlimited spectrum of paint colours; including a colour match service should this be required. Our Retail Partner's client had chosen a very specific shade, Ho Ho Green by The Little Greene Paint Company. We were able to colour match this exactly, and our spraying and hand-finishing processes give a perfect finish.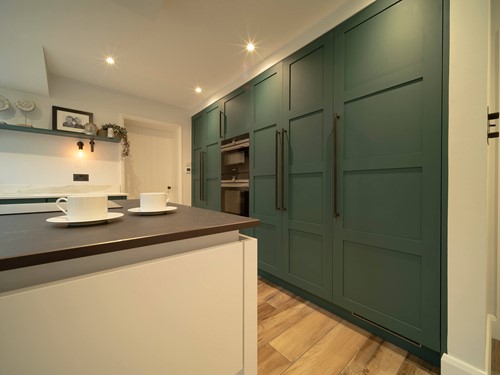 We specialise in truly bespoke, in-frame furniture, which sets us apart from the mass-produced readily available kitchens that saturate the current market. Nothing but excellent craftsmanship has gone into making our in-frame furniture. In-frame truly allows you to have the full bespoke experience.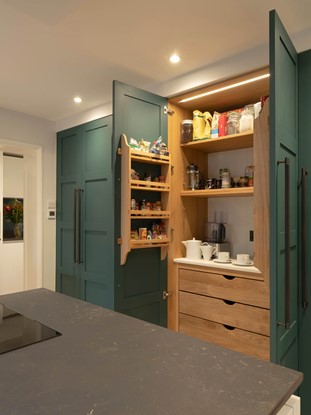 Attention to detail is a must when designing bespoke kitchens; from the finish of our paint, the hinges we use, to the soft-close drawer runners that come as standard in all our furniture, our furniture will allow you to offer your clients an unrivalled product. Our unique, handmade zig-zag shelving allows a totally customisable kitchen larder. In-fact, all shelving within your kitchen design can be fully adjustable.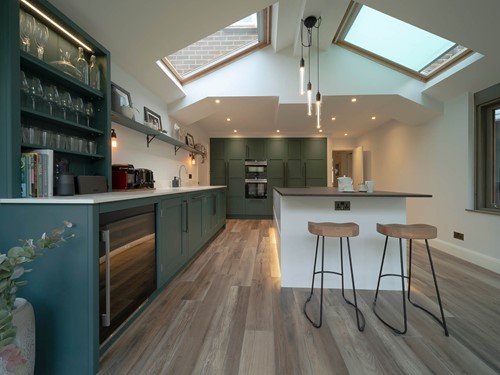 A combination of cabinetry styles is one of the many reasons to go bespoke; our Retail Showroom Partner designed a kitchen with our In-frame Shaker cabinetry for the main bulk of the room, and our In-frame Slab cabinetry for the stand-alone island. We do not supply appliances at Arbor Lane, however, we will work alongside you to ensure your specified appliances fit seamlessly into our craftsmanship, including industry leading induction cooktops, integrated appliances, hot taps, and charging pods.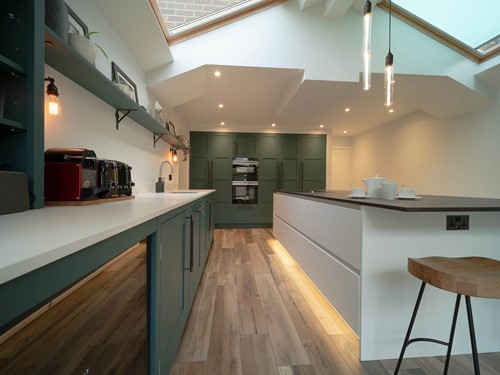 LED Lighting from our trade consumer Hafele can be professionally installed by our assembly team before delivery to site, allowing for a quicker install. We undertake all furniture deliveries discreetly, in non-sign written vans.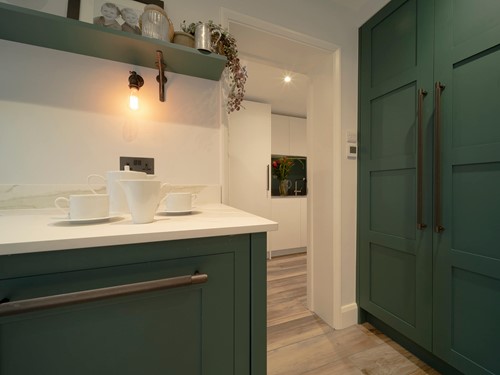 "Finding the right bespoke product to add to our range has taken us a very long time but the quality of the Arbor Lane product and attention to detail offered by their team has made us very happy with our decision."
- Kitchen retailer, Surrey
Arbor Lane Interiors manufacture bespoke, handmade kitchens and interiors, and we work with trade professionals in London and the Home Counties. If you are a kitchen retailer, architect, interior designer, property developer or contractor and you are looking for a British company to bring life to your bespoke furniture designs, then please do get in touch: 01634 940 953 or email [email protected].                   
Trade Customers
Contact Us
If you are a trade professional looking for a furniture workshop to bring life to your bespoke kitchen and interior designs, please call us on 01634 940953 or email [email protected].